Resident card
It appears that all citizens of the Pacific Zone, including children, are issued resident cards.
Seal
The seal appearing on the Pacific Zone ID card depicts a map of the PZ over the rays of a setting sun.
Address
Maddox lives in Lancaster, a city in present-day Southern California's high desert region. The Pacific Zone is split into numbered and lettered sections that function much like counties or ZIP codes. The section numbers increase as one moves north on the map; the letters ascend when moving east from the coast.
Date of birth
From the October NE0026 dates on worksheets found in the Maddox Ark and the date of birth seen on this card, arkologists have surmised that Maggie Maddox is eight years old.
ID card
3.31" x 2.06" (8.5 cm x 5.3 cm)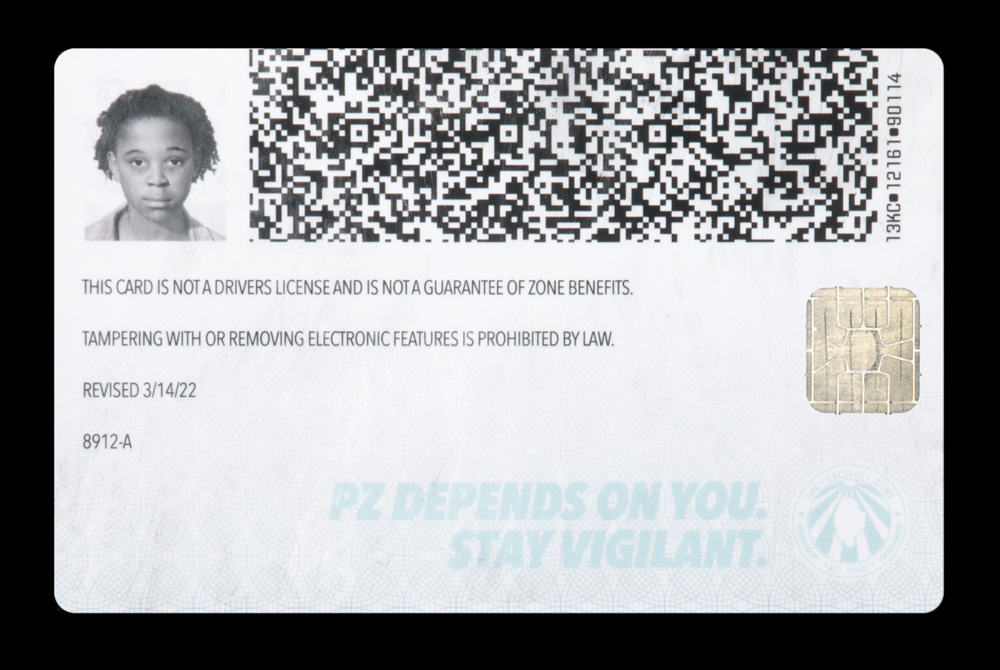 Coding
The pattern seen here, similar to that of quick response (QR) codes, likely provides another way for Pacific Zone authorities to call up residents' information.
Zone benefits
Mention made here of Zone benefits is the source of longstanding debate in the arkology community. Some researchers feel that "benefits" is indicative of the Pacific Zone operating as a socialist society, while others think it merely refers to the rights that attend citizenship in the Zone – rights which can apparently be revoked at any time.
Electronic features
The chip embedded in this card, similar to those seen on credit and debit cards, presumably links to the cardholder's personal information in PZ databases.
Stay vigilant
The phrase here appears on multiple state-sponsored communications in the Zone, and appears to be part of a campaign to stamp out terrorism.
ID card
3.31" x 2.06" (8.5 cm x 5.3 cm)